Disclaimer: I've chosen 27 episodes of television from 20 shows for my year-end list. Excessive? Maybe. But it was a good year for tv, at least.
Here are my methods: I keep a running list of the television seasons and films I watch in one year. It's a simple iPhone note that I add titles to once I complete a season or see a movie. Nothing more than that – no commentary. Then, in December, I read through the note and make a list of episodes I loved, what stuck with me, what I'm still excited about. And this year I was excited about a lot of things, apparently.
So, in no particular order, here's my top 27 television episodes from 2017 without too much commentary:
1. Better Things: "Eulogy" (S2E6) [FX]
I did just say no particular order, but "Eulogy" is probably my favorite television episode of the year. Yes, it was written by Louis C.K. I feel a little weird including it but will justify my choice with the following: the writing is nothing without Pamela Adlon's acting, direction, and obvious mentorship to her tv "daughters". The show is ultimately hers, and she is 100% deserving of praise. Let's hope season 3 allows her to take over as the auteur, because the show doesn't need Louis.
2. Better Things: "Graduation" (S2E10) [FX]
3. Please Like Me: "Porridge" (S4E2) [Australian Broadcasting Company/Hulu]


4. Please Like Me: "Burrito Bowl" (S4E5) [Australian Broadcasting Company/Hulu]
Season 4 is Please Like Me's final season. Please watch it. It's my all-time favorite. Can't wait to see Josh Thomas' next project.
5. Love: "A Day" (S2E5) [Netflix]
6. Girls: "American Bitch" (S6E3) [HBO]
I've seen this episode on most top 2017 lists. Deservedly so, it captures an intimate portrayal of sexual assault and the complicated power dynamics of creative professions. It's one of the best episodes of a truly incredible final season of Girls.
7. Girls: "What Will We Do This Time About Adam" (S6E8) [HBO]
Adam Driver's acting in this episode is one of the best performances of the year. See: the diner scene.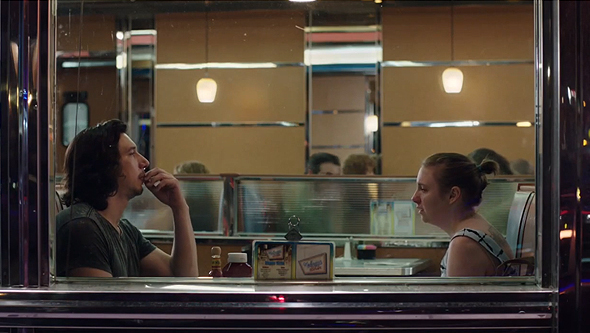 8. Master of None: "Thanksgiving" (S2E8) [Netflix]
Here's another episode that deserves a place on all top 2017 lists. Lena Waithe is genius.
9. I Love Dick: "A Short History of Weird Girls" (S1E5) [Amazon]
I love a good capsule episode. This one, co-written by playwright Annie Baker, is the highlight of I Love Dick.

10. The Leftovers: "Certified" (S3E6) [HBO]


11. The Leftovers: "The Book of Nora" (S3E8) [HBO]

12. The Handmaid's Tale: "Jezebels" (S1E8) [Hulu]


13. Last Chance U: "Half a Team" (S2E1) [Netflix]

14. GLOW: "Maybe It's All the Disco" (S1E8) [Netflix]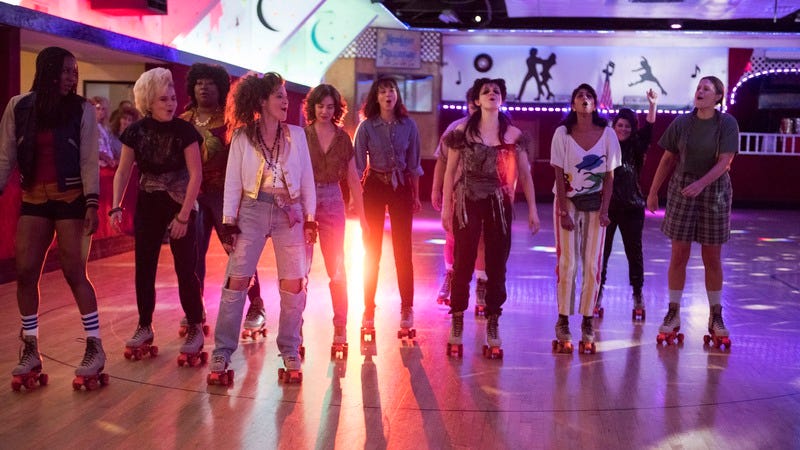 15. The Bold Type: "Carry the Weight" (S1E10) [Freeform]
The Bold Type was such a pleasant surprise of 2017. Strong writing and performances from Katie Stevens, Aisha Dee, Meghann Fahy, and Melora Hardin allowed the show to take risks on timely topics, and those risks paid off. "Carry the Weight" is a beautiful episode devoted to sexual assault victims and the message of women supporting women. Making me cry just thinking about it.
16. The Bold Type: "Three Girls in a Tub" (S1E7) [Freeform]

17. Insecure: "Hella Disrespectful" (S2E7) [HBO]
Last year I wrote about Insecure's pilot as the strongest episode of the season. Luckily, season 2 maintained the promise of its pilot. Hard to pick one episode from s2, but 7's dinner party scene features some stellar acting from Issa Rae .
18. Game of Thrones: "The Dragon and the Wolf" (S7E7) [HBO]

19. The Good Place: "Michael's Gambit" (S1E13) [NBC]

20. Halt and Catch Fire: "Signal to Noise" (S4E2) [AMC]
The marathon telephone call between Cameron and Joe. That is all.
21. Halt and Catch Fire: "Who Needs a Guy" (S4E7) [AMC]


22. Halt and Catch Fire: "Ten of Swords" (S4E10) [AMC]
A satisfying, emotional ending to one of the best television shows of the decade.
23. Alias Grace: "Part 2" [Netflix]

24. Search Party: "Psychosis" (S2E10) [TBS]

25. You're the Worst: "Twenty-Two" (S3E5) [FXX]
(This episode came out in 2016 but, again, had to wait until its 2017 Hulu debut to watch. It counts.) Just when I started to get sick of Gretchen and Jimmy's self-centered pettiness, You're the Worst comes out with a capsule episode from Edgar's perspective. It's refreshing.
26. The Marvelous Mrs. Maisel: "Mrs. X at the Gaslight" (S1E6) [Amazon]


27. Black Mirror: "Hang the DJ" (S4E4) [Netflix]
It pays to wait until December 30 to write an end-of-year list. Black Mirror series 4 came out on December 29 and "Hang the DJ" (like series 3's "San Junipero") proves that the sci-fi anthology is at its best when it features romantic relationships between humans.
Honorable mentions
Girls: "Goodbye Tour" (S6E9) [HBO]
Master of None: "First Date" (S2E4) [Netflix]
The Handmaid's Tale: "Night" (S1E10) [Hulu]
Some more honorable mentions of shows I enjoyed but didn't have standout episodes
13 Reasons Why
Big Little Lies
Bob's Burgers
The Keepers
Orange is the New Black
Riverdale
And, as you may know, I watched all of Mad Men (finally) and should probably do a separate list of my favorite episodes from the show.

SaveSaveSaveSave