Michelle and I both binged House of Cards and Bleachers music this week. Michelle celebrates the ending of Bloodline and makes some music recommendations, while I celebrate the return of Hulu's Casual. Let's go.
Michelle
1. House of Cards
Season 5 is here and it brings us the same master class performances of Kevin Spacey and Robin Wright as the Underwoods. More drama and plot twists, but still the same darkness in every scene. It's the first season that creator and former showrunner Beau Willimon is not a part of, and maybe it's just me but I noticed. No spoilers or too much detail, but something happens in this season that I've been waiting for since the beginning. I'm curious to see where House of Cards may go and how they'll stand against the actual chaos of today's government, but as always, I'm ready.
2. Bloodline Season 3 (Series Finale)
Netflix has consistently produced some quality television shows, and I was pretty confident that their family drama series Bloodline would be in the ranks of those. I talked a little bit about this in last week's binge when I was rewatching the series to prepare for the new season. However, it was a show that never really held it's weight. In the third and final season, the Rayburn family deals with a series of events and drama that has been building over the three years of the show's existence, but it's messy. I'm not sure if the writer's room was notified of the cancellation after developing majority of the narrative or if they gave up because the show was axed, but there is a sense of disarray and rush that makes the season fall apart in the second half. Character arcs are developed, sub plots arise, but nothing ever settles and resolves appropriately for the storyline. Even the ending feels like it maybe had the opportunity to go one way, but due to the cancellation, sought out another way for effect.
My recommendation is that if you're a loyal fan of the show, love the Rayburns and want to give them a proper send off, check it out. The music supervision and the cinematography, editing, etc are all excellent this season, so I definitely think it's worth giving it a try. I will miss the reckless Rayburns.
3. "WHERE THE HELL ARE MY FRIENDS" by LANY/ "There's a Honey" by Pale Waves
My Spotify playlist was on shuffle and with an added feature of the streaming service, the playback continued through a series of related artists and tracks so I didn't experience any interruptions. In the midst of just tuning into music I had already known, songs that were catchy and new to me, I came across a song called WHERE THE HELL ARE MY FRIENDS by the band LANY. I've heard a few songs from LANY through playlists, Discover Weekly suggestions, etc. but this was the first time I had heard this particular track. I was instantly hooked. It's tone is relatively sad and dwells on the loneliness of the singer who is wondering how and why he ended up in the position he is in. Beyond the catchy lyrics and really chill electro pop beat, this song is actually very relevant for anyone who has ever felt alone, gone through a struggle that seems endless, or just sat down and reevaluated their lives. LANY has a bunch of other great jams that somehow always have the element of summer tinged all over it. Check them out, especially if you like artists like COIN, Bad Suns, The Japanese House, The 1975, and more.
"There's a Honey" by Pale Waves is the jam. Think the female version of the 1975 with all the added benefits of the shoegaze genre and influence of the gothic, emotional influence of artists like the Cure. Trust me, you're going to want to follow Pale Waves, because if this track is any indication of what their capable of, prepare for the blow up. Listen to the track here and fall in love.
4. All things Bleachers
New album, same old love for Jack Antonoff and the boys of Bleachers. Today is a very special day for Lane and I, and I prepared for the new album's release and ticket presales for their tour by listening to Strange Desire, the latest released tracks, and live performances, including the one last night that ran live on Youtube through iHeart Media.
Lane
Michelle and I watched/listened to a lot of the same stuff this week. Here's my take on it.
1. House of Cards season 5
I haven't finished the full season (yet) but I agree with Michelle. You can tell Beau Willimon has left the show. I'm kind of lukewarm about the show, in general. It seemed novel in season 1 but my tastes have changed and I'm kind of over it now. Maybe I'm just watching for Claire Underwood.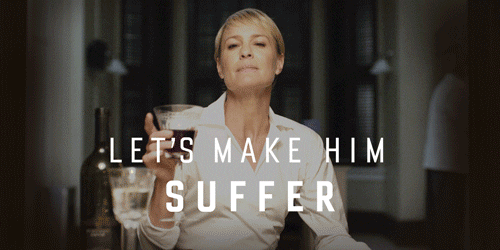 2. All things Bleachers
See Michelle's #4, above! I LOVE Bleachers. I can't stop listening to "Gone Now" and just bought my tickets for their Austin show in September!
3. Casual season 3
I'm a fan of Hulu's half-hour dramady, Casual. It's in its third season and the first four episodes are available to stream. I love the relationship between siblings Valerie (Michaela Watkins) and Alex (Tommy Dewey), and Valerie's daughter, Laura (Tara Lynne Barr). The acting is fantastic, the writing is sharp, and I'm just a fan. If you like shows like You're the Worst and Catastrophe, check this one out too. Carrie Brownstein directed episodes 2 and 3, Lake Bell directs 4 and 5, and Gillian Robespierre 10 and 11. I'm looking forward to the rest of the season!